Sunday Notebook vol.1
Let's talk about luck surface area
While I previously promised an erratic publishing schedule, I've decided to at least try to make the effort of a weekly notebook post. Sometimes the stuff I encounter warrants a mention or a nod, but not a deep dive. And sometimes I will want to add some post-script to an existing article as well.
On that second point, I wanted to append some material to the 4L post from earlier in the week:
- Increasing luck surface area
Teams are obviously always hunting for talent in explicit ways - scouting, analytics, trades, etc. And the best prospects don't tend to spend much time on a fourth line anyways, so this entire screed no doubt seems misplaced or hyperbolic. 
The thing is, sometimes you also need luck to land good to great players because future contributors aren't always obvious. Bluechippers and first-round kids will usually get their at-bats, but it's the other, less obvious bets that can benefit from an experimental portion of the roster. 
I noted in the referenced article that known talent is expensive to acquire, but uncertain talent often isn't, but it does need some serendipity to discover. Think late bloomers, guys with unusual development paths, or mid-to-late-round picks who aren't clearly one thing (top-six scorer) or another (bottom-six grinder).
These are "fall through the gap" type players, or something I call "no downside bets". By which I mean players who have shown they are probably replacement level and have presented some evidence of upside, be it in terms of results or skills, but who aren't an obvious bet to "pop".  
As a Flames fan I've seen both success and failures on this file over the years, which is why this issue is close to my heart. Some examples of no downside bets in Calgary include Martin St. Louis, Mark Giordano, Brett Kulak, and Oliver Kylington.
I've picked a range of circumstances and impact levels purposefully to illustrate the concept. Giordano and St. Louis were superstars. One was almost lost in a contract dispute to Europe, the other was bought out of his contract (too small to be a 4L guy!) and then came back to haunt the club in 2004**.  
Kulak's a capable middle rotation defender and was traded for peanuts after a good (but not obviously good) rookie season. Oliver Kylington landed in the top-4 rotation after being exposed on waivers after training camp last season. 
**(You can bet St. Louis' recent quote about focusing on ceiling rather than floor was informed by this experience.)
Instead of just a charnel house for big bodies and veteran role players, the bottom of the rotation is the perfect area for experimentation and no downside bet placing. Expand the luck surface area here - the opportunity for serendipitous discoveries - by identifying and skating some no downside bets, be it from inside the org or off of the waiver wire.
Often, the payoff will be negligible. Sometimes it will be limited, like discovering a third-line F or bottom-pairing D. However, on rare occasions, the uncertain upside of the smallish walk-on try-out or undrafted defenseman is that of Art or Norris Trophy winner. Those sorts of discoveries can change the trajectory of a franchise. 
In sum: It's better to stumble on a good 4L by accident than to build a bad 4L on purpose. 
"Expanding luck surface area" is a concept I've encountered in business, but I think it applies in hockey management as well. There's a perception that good management teams have a handle on everything, and can accurately predict talent curves, career slopes, and development. But it just ain't so. There's simply too many factors involved to nail this stuff consistently. Every organization is subject to chance, and management processes should increase the opportunity to leverage luck where ever possible.

This sounds paradoxical, but it comes down to thinking a certain way and about the type of bets management is willing to make. I recently wrote a 5-year roadmap for my family's company, which ends with this note:
In our executive decision-making orientation, there are a few mental models to keep in mind.
Asymmetric risk-taking
A simple model for assessing capital allocation risk: finding bets with asymmetric payoffs. Meaning: the downside is limited and bounded, while the upside could potentially 2X-10X-100X our business. 
Asymmetric payoffs don't guarantee success in every bet we make. What it does do is expose us to much, much higher upside in exchange for a limited downside. With asymmetric bets, you only need a handful of them to pay off in order to rapidly build the business, while if any of them fail it doesn't do any lasting harm.    
Luck surface area
This is a concept about increasing your exposure to luck and serendipity as much as possible. Almost every successful discovery, step forward, or founder/company has some element of luck or chance. But in every situation, the person or company in question was positioned and able to take advantage of that luck and turn it into something lasting. 
Compounding returns
It is vitally important that we invest in things that offer ongoing, compounding returns for the business.
As you can imagine, these are likely to be themes I return to over time.
An explanation of my obsessions about mindsets and mental models - A critical thing to consider in team building analysis is how it is being built, not "the what". The what flows from the how over time. I think a lot of people get this backward.

If I was to sum up this endeavour with two concepts, it would be "the hunt for first principles" and "narrative violations."

The first concept = the primary principles that underlie the game. Once we discover these and lay them as a foundation for out understanding, we can attempt to ladder up all other observations and analysis from there. For example, my note that the goal of team building is to "collect as many good players as possible" is me groping towards a first principle.

The second concept = tactics, discoveries, and insights that flow counter to existing, generally adopted truths. The two best ways to lap the field (aside from getting lucky) are to find out true things that nobody else knows, and figure out what is false that everyone else thinks is true.
What I'm reading:
Chace McCallum's recent work on NHL draft biases is a must-read. You can check out the published study or go through his Twitter thread on the subject here:
I have posted a lot about NHL draft biases; here are my full findings and a thread of the highlights. The main findings are that prospects like this have been undervalued at the NHL draft

- High Scoring
- Short
- Relatively Young
- Low PIMs
- Over Age
Spoiler: NHL GM's remain size queens.
Sheldon Keefe says they are looking at using Mitchell Marner on defence at times during the regular season.

Have been experimenting throughout camp. Took some reps with Morgan Rielly today.

#LeafsForever
It will be interesting to see if the Leafs pursue the 4F 1D configuration when the real stuff gets going. "positionless hockey" is an intriguing tactic worth investigating, at least in certain circumstances (trailing in the third period, mismatch during a faceoff after an icing, etc.) This likely sounds kind of nuts, but I'm sure people thought Frank Boucher was crazy when he started pulling his goalie for an extra attacker back in 1940. 
Other Stuff:
I floated the idea of starting a community for hockey content creators. Some details in this thread: 
As I prepare to spin up my own writing again, I am also considering starting a closed community for ambitious hockey writers/content creators.
The idea is still nascent, but the goal would be to provide a space for experimentation, feedback, education, and mentorship. If you have any interest in participating or would like to simply signal support for the project, please contact me on Twitter or by email ([email protected]). 
What I'm drinking (skip if you don't like wine talk. Yes, I'm one of
those
people):
2018 Black Hills Ipso Facto
A recent library release from one of Canada's best wineries (in my humble opinion), the '18 Ipso Facto only has a few years on it but is already a wonderful mix of smooth and complex.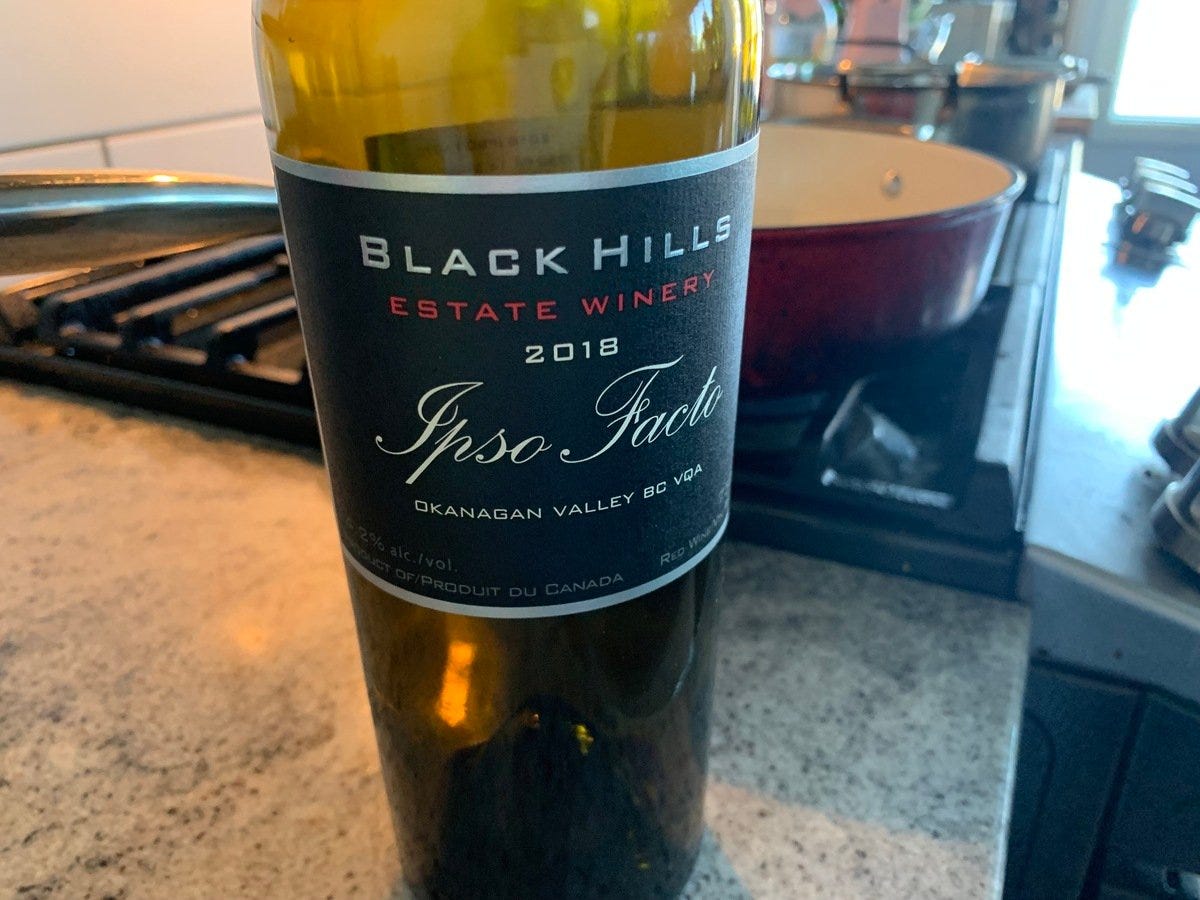 A blend of Cab Sauv and Syrah, you'll find hints of leather, pipe tobacco, and smoke to go along with stewed, dark red fruit. This one is a rare mix of savoury and sweet with long legs and supple tannins and is one of my favourite recent bottles. You can probably age this for another five years, but it's drinking really well right now.
I only have one bottle of this left, which I'm going to horde for a special occasion.
Reminders: